The Fiero has a charcoal canister next to the air filter. But there is a vapor canister on the other side of the car too. It is under the rear clip beside the battery. It is hard to get to but you can see it if you take out the right side wheel and inner fender or if you take out the fiberglass inselation that is next to the battery.
DONT take this stuff out. The charcoal canister and vapor canister work together to recycle gas vapors that form in the tank from heat and sloshing around. How do you plan on venting the tank. That could be a fire hazard if you dont do it right, raw gas fumes venting out at will and uncontrold can be kind of dangerous. The tank needs to vent even when the car is not runnig. The outside temp causes the gas to evaporate, and that is why the two canisters are there.
This is the Fiero charcoal canister and the Fiero vapor canister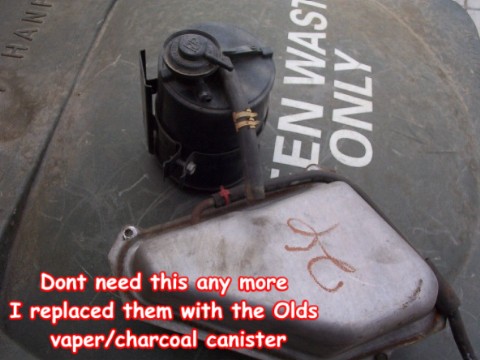 This is the vapor canister and charcoal canister that I used to replace the Fiero canisters on my 3.5 conversion.