Ken...what? Why the would you take off the cover? If you can stand doing it without being able to see the rear plugs, you can do it easily without removing anything. Just snake your hand over the intake hose and reach back there, you can do the whole job by feel. All I needed was a few extensions and a u-joint, and I was golden. You can get the passenger side one by just reaching around over there too. The center one is reachable from either side. It is alot easier if you sit on the tail light housing, with legs/feet in the trunk. My best time is 8 minutes for all 6!
------------------
87 GT Automatic, Beretta GTZ Wheels, 225/50-16 Dunlop SP Sport A2s at all corners, Poly cradle bushings, Poly swaybar hardware, new KYB shocks and struts, 100W headlights w/ H4 conversion, BBJ Resin Specialities side scoop, RCC Specialty's Anti-bumpsteer kit, 1" front swaybay, original 7/8" bar installed in back Repainted all silver.
Future mods: Rear control arm poly bushings, Front mounted battery, 1fst2m6 style hood vent.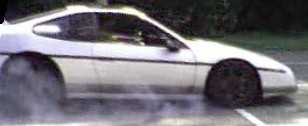 3800 S/C after all that!