Alright, I have been told that a shift kit was put into my car by a previous owner.. I have no way of verifying this info.

So anyways, I have an 87 GT with the 3 speed auto transmission that came with the car. When I have the car in D (Drive) and hold the pedal to the floor the car will rev right up to 4000 RPM and then shift and shift hard. In 2nd gear I can get to redline before the transmission will shift.
The only way for me to get the car to redline in 1st is to put the car in 1st gear and shift manually with my auto tranny. Is this normal for this transmission or do I have a shift kit? I was just reading another thread where someone mentioned that the 2.8 loses most of its power beyond 4500 RPM so that would make it a good thing for me to have? I've been confused about this from the moment I got the car, I couldnt comprehend why someone would have the tranmission shift before redline purposely.
------------------
Alex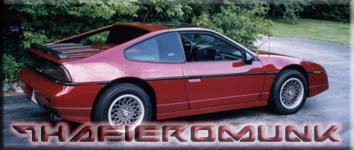 1987 GT 2.8 V6