I also replaced the dew wipes with the assistance of :

I also removed the outer door skins with the help of :

Here are some my pictures of the process for those who may not have done this:

The first thing to remove is the molding which is held on by plastic clips. Here is a shot with the molding removed: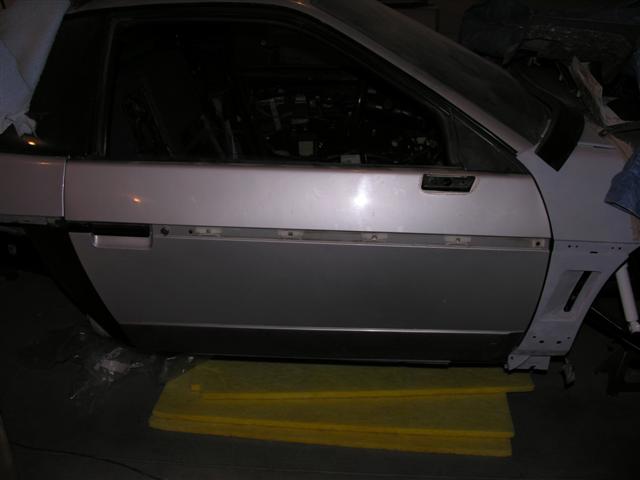 The next step is to remove the clips which will break virtually every one. You can new ones through the Fiero Store. Once those are removed there are 4 plastic rivets on the bottom of the door which need to be drilled or center punched to remove them. Then the whole skin will lift up off of the door structure. A small rod connects to the lock mechanism. Here is the rod and to remove it you undo the small clip on the key lock:
And the door skin is off!
Here is a picture of the bottom edge of the skin, the 4 large holes were for the rivets that attach it to the structure:
The stock ground effects need to be removed for the Aus stage 2 scoop trim. The stock piece is held on by a number of rivets as seen in the previous picture and by a metal bar that is also riveted in place. Here is the back side of the skin showing all the rivets:
Once the bottom row of rivets are removed the stock piece slides off of the metal bar:
And the skin ready for prepping for the Aus trim:
The dew wipes were much easier to replace using the info in the threads above but it's still a bit of work but at least they are done now. Sorry no pics.
I then started on the inside of the doors. First I removed the self tapping screws I used to hold the new door levers on and replaced them with pop rivets:
Sorry for the out of focus picture.