The Indian Uprising All Pontiac Weekend, August 9th-11th, The Fiero is a feature car! (Page 1/1)
| | | |
| --- | --- | --- |
| | Midwest Fiero Clubs | MAR 05, 07:57 PM |



Join other Fiero enthusiasts and bring your Fiero August 9-11 2019!
Pheasant Run Resort in St Charles, IL

The Indian Uprising All Pontiac Weekend presented by the Cruisin' Tigers Pontiac Club (cruisintigers.com). The 29th Annual Indian Uprising All Pontiac Weekend event dates are August 9 through August 11, 2019 and marks its 29th year.

For 2019, the Cruisin' Tigers will celebrate the 35th anniversary of the Fiero by highlighting them as one of the Feature Cars at this year's show. What does this mean? We will have special preferred parking on the show field, a Fiero will be featured on the event T-shirts and dash plaques, and there is a Feature Car only show on Saturday, August 10, 2019 at 12:00pm with awards.
Midwest Fiero Clubs Region of the AACA will be the Feature Club for this year's event. Since the attendance of Indian Uprising show has a national reach, we thought it more prevalent to have the Midwest Fiero Clubs be the Feature Club to serve as an invitation to all of the Fiero clubs across the Midwest and beyond to consider participating.

The Indian Uprising is one of the larger Pontiac shows located in the Midwest and has drawn as many as 600 Pontiacs. We had over 230 Fieros at the 35th Anniversary celebration back in August of 2018. Let's continue the celebration for 2019 and show our fellow Pontiac family members how much we love our Fieros by showing support for this event.

The Indian Uprising All Pontiac Weekend takes place at The Pheasant Run Resort in St Charles, IL and is the biggest all-Pontiac charity event of its type in the world, drawing over 600 cars annually with thousands of spectators from across the U.S. Over the 29-year life-span of this event, The Cruisin' Tigers have donated proceeds totaling over $100,000 to children's charities. Full details of this year's event can be found at https://cruisintigers.com/2...n-uprising-info.html .
Make your plans today to continue the Fiero's 35th anniversary celebration this summer!

REGISTRATION IS OPEN CLICK HERE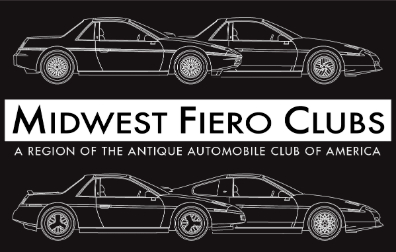 | | | |
| --- | --- | --- |
| | Midwest Fiero Clubs | MAR 05, 07:58 PM |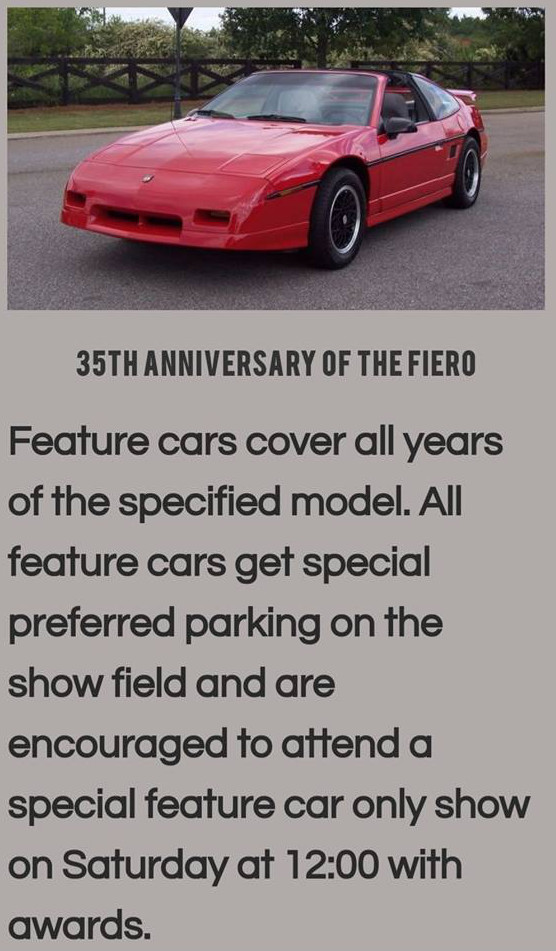 [This message has been edited by Midwest Fiero Clubs (edited 03-05-2019).]
| | | |
| --- | --- | --- |
| | 2.5 | MAR 31, 09:12 PM |
This looks fun!

[This message has been edited by 2.5 (edited 03-31-2019).]
| | | |
| --- | --- | --- |
| | Midwest Fiero Clubs | MAR 31, 09:14 PM |
| | | |
| --- | --- | --- |
| | Midwest Fiero Clubs | APR 18, 12:26 PM |
Info from our hosts!

The 29th Annual Indian Uprising All Pontiac Weekend is back. The Indian Uprising is now three days! OVER 600 PONTIACS EXPECTED
The indoor Arena is Sold Out. Register your car now for general show field and avoid the long lines on show day. Fly right on to the show field.
Hotel reservations can be made right from the website.
TheIndianUprising.com

Friday Events :
Vendor set up and sales
Early Arena parking
Friday night is moviegoer night in the Arena- 7pm - Featuring The Cannonball Run. Popcorn, Dairy Queen and Beer will be on hand.

Saturday Events:
Feature car only event with awards. The Fiero is a feature car!
The 7th Annual MEGA CRUISE-IN
Cy, Ronnie and The Kingster of Garage Squad

Sunday Events:
All Pontiac Popular vote show with over 150 awards
Legends of Pontiac Speaker Panel
Salute to our Veterans
Cy, Ronnie and The Kingster of Garage Squad


Visit the vendor midway, cruise through the huge swap meet, and talk with our special guests all weekend long. Loads of activities for the whole family

Participants for our feature cars NEVER disappoint. They always show up in big numbers. For 2019 it wont be any different. Not only do our feature cars get special parking but they get their own car show on Saturday. While we want all Pontiacs on display all weekend, we pay special homage to three feature cars each year with awards!! This years feature cars are special because they all celebrate a milestone anniversary. The awards are picked and presented by our special guests.

Every year we start the show with our very own Marvin and Kimberly Joy Minarich singing the National Anthem. While this is a show tradition, this year we're gonna kick it up 10 notches. We're talking Chicago Color Guard, honoring veterans and so much more. This is really gonna be special.

Friday night at 7pm in the Mega Center. This years theme will be a solute to Burt Reynolds. We'll be showing The Cannonball Run on the big screen. The Indian Uprising Movie Night is free of charge to all show participants and their families. You must have a registered car in order to attend.

No reason to leave the show grounds on Saturday night. We'll open the venue up to all makes and models for a few hours. We'll celebrate The 50th Anniversary of Woodstock!! 800 CARS EXPECTED!!

INDIAN UPRISING FOCUS ON KIDS CHARITY
Lets not forget....The Indian Uprising All Pontiac Weekend is a charitable event. Proceeds from our show go to local childrens charities. When registering your car, please consider adding a few dollars as a donation at checkout. The kids will thank you!

Our three day event, located at the upscale Pheasant Run Resort in St Charles Illinois, keeps getting bigger and better. The Indian Uprising is now considered to be one of the largest and highest quality shows in the Pontiac end of the hobby drawing over 600 Pontiacs annually with thousands of spectators. The Cruisin' Tigers Pontiac Club have donated proceeds from The Indian Uprising totaling far more than $100,000 to children's charities. Register your Pontiac today!

cruisintigers.com

[This message has been edited by Midwest Fiero Clubs (edited 07-01-2019).]
| | | |
| --- | --- | --- |
| | Midwest Fiero Clubs | MAY 06, 07:52 PM |
This years feature car is the Fiero. Who's coming and celebrating the 35th anniversary with us?
We're looking for a HUGE showing of the only GM mid engine. Register yours now TheIndianUprising.com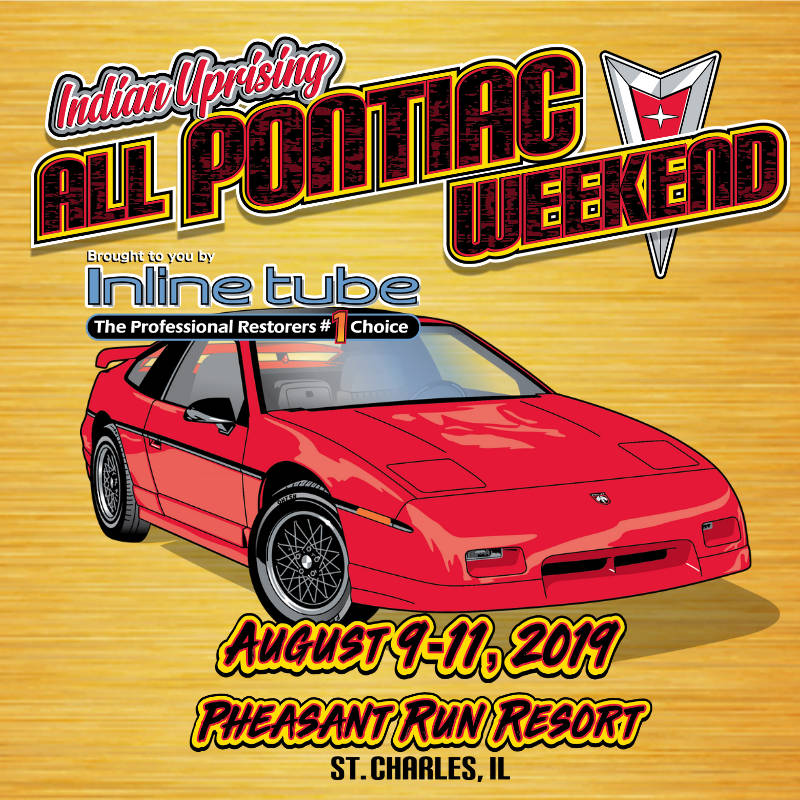 | | | |
| --- | --- | --- |
| | Midwest Fiero Clubs | JUL 08, 04:39 PM |
August 9 is coming up soon



Don't miss the Lengends of Pontiac Speaker panel on Sunday, including Don Keefe, Jim Mattison, Scott Tiemann, Jeff Denison and Rocky Rotella.

All Day Saturday and Sunday catch from MOTOR TREND's Garage Squad: Cy, Ronnie and Kingster

JUST ANNOUNCED!
Steve McQueen's last film, "The Hunter" debuted in 1980. Filmed around The Chicago area, the Trans Am blown up in the movie was recently found largely intact in a barn in central Illinois where the movie crew stashed it right after filming. See it on display!




Over 600 Pontiacs expected. Online registration closes the end of July. Don't procrastinate. Save yourself the hassle of waiting in line in your car day of show.

Feature cars at The Indian Uprising get the red carpet treatment all weekend long. Special preferred parking and a feature car only show on Saturday at The Indian Uprising. FIERO is one of this years feature cars celebrating the 35th-anniversary milestone.
| | | |
| --- | --- | --- |
| | Midwest Fiero Clubs | JUL 09, 03:37 PM |
Proceeds from The 29th Annual Indian Uprising All Pontiac Weekend shirt sales go to children's charities.
They will be for sale at the show August 9 -11th in St Charles IL, but sell out VERY fast.
Tees are vailable in a few different colors. Order yours now!!

Online shirt orders close July 13th.

ORDER HERE