Tires! Summer only, what to buy (Page 1/2)
| | | |
| --- | --- | --- |
| | WullahBlack | JUL 16, 05:14 AM |
Hello. I've been lurking here for years and finally decided to sign up. Lots of great people and information here.

My question is this. I have aftermarket 17inch rims, and I've been running the same summer tires on my Fiero for 10 years. Needless to say, Im due for some new skins.

At the time, I was told the largest that would fit were 215/40/17. The tires performed great (they were conti extremecontact) but I was curious what other people used for a summer only performance tire.

Honestly, I would love to go up to a 215/45/17 because Michigan potholes eat rims when you have so little sidewall. But the guy at Discount Tire told me that was the largest size that would fit. Though looking at it, I seem to have a lot of clearance with that existing tire size.


So I suppose my two questions are, what summer only performance tires would any of you recommend, and what do you believe the maximum tire size I could fit an on 85 GT with 17inch rims?

Thank you in advance.
| | | |
| --- | --- | --- |
| | cvxjet | JUL 16, 11:31 AM |
The original tires on a 85 GT are 215/60-14 which are 24 inches in diameter.......the 215/45-17 are 24.6 inches in diameter....They are the perfect size for your car- I have converted my 85 SE V6 to 86-88 GT bodywork and Getrag GT 5 spd.....I put 16 x 7 wheels and 205/55 and 225/55 tires on it- the rear tires are slightly bigger than the 86-88 GT tires (215/60-15) and my speedo is right on the button.

The 215/40-17s are only 23.77 inches in diameter- which is smaller.....they do not fill the wheel wells......Go with the 45 series tires...

Also, I would stick with the conti-extremes- Continental (And their subsidiary General Tire) make the lightest tires- I switched my car from some BFGs and the 3 lb difference in front and 6 out back made a big difference in how the car felt- 40 lbs of >Un-sprung< weight is comparable to 200 lbs of weight off the body/chassis......

[This message has been edited by cvxjet (edited 07-16-2019).]
| | | |
| --- | --- | --- |
| | pmbrunelle | JUL 16, 12:17 PM |
I had 225/45R17 tires on my 17x7 rims on my 85 Fiero:

| | | |
| --- | --- | --- |
| | WullahBlack | JUL 16, 06:53 PM |
Interesting! I do enjoy trying out different tires on my vehicles. I've been very happy with the Contis on my Fiero, and I have an all season set for my Trailblazer.

I was looking into some Pirelli P Zero Nero GT tires. But a tire guy i know says they are very good, but I'd probably get better wet traction with the Contis I have now.

Though thank you very much for informing me a 45 sidewall should work. This pleases me as Michigan roads do not take kindly to thinner sidewalls.
| | | |
| --- | --- | --- |
| | cvxjet | JUL 16, 07:52 PM |
My 225/55-16s are 25.74 inches in diameter...I like some sidewall on my Fiero- We don't have the newer refined suspension modern cars have (Aluminum A-arms and spindles, electronic shocks, etc)

And, most places now like to re-cover old asphalt and then let it rot for 10-20 years...Potholes! (In San Leandro where I live, they have what I like to call "San Leandro Potholes"; They lay on another layer of asphalt, but do not raise the manhole covers....they sit approx' 1-2" below grade....Fun to test your car's integrity. I had a windshield separate from the frame on the passenger side on my Fiero back 20 years ago.....)
| | | |
| --- | --- | --- |
| | La fiera | JUL 16, 08:32 PM |
Try Federal 595RS-RR. You will not be dissapointed. I use 215/40/17 and it's pretty beefier. It protects my rim and the rubber is soft (200UTG but it feels softer than that). One thing, they are very loud.
They sound like you are flying on a Japanese Zero WWII plane. The best part is the price. You can get a set of 4 215/40/17 shipped at your door for $400+. There's no other tiere that performs like this at this price.

[This message has been edited by La fiera (edited 07-16-2019).]
| | | |
| --- | --- | --- |
| | olejoedad | JUL 16, 09:21 PM |
What offset and width are your back wheels?

Tire size calculator shows you could easily go 245/50/17 on 30 offset, 7" wide wheels.

They are taller, will reduce wheel well gap by over an inch and throw off your speedo.
But they are better on our potholes....
| | | |
| --- | --- | --- |
| | WullahBlack | JUL 17, 04:16 AM |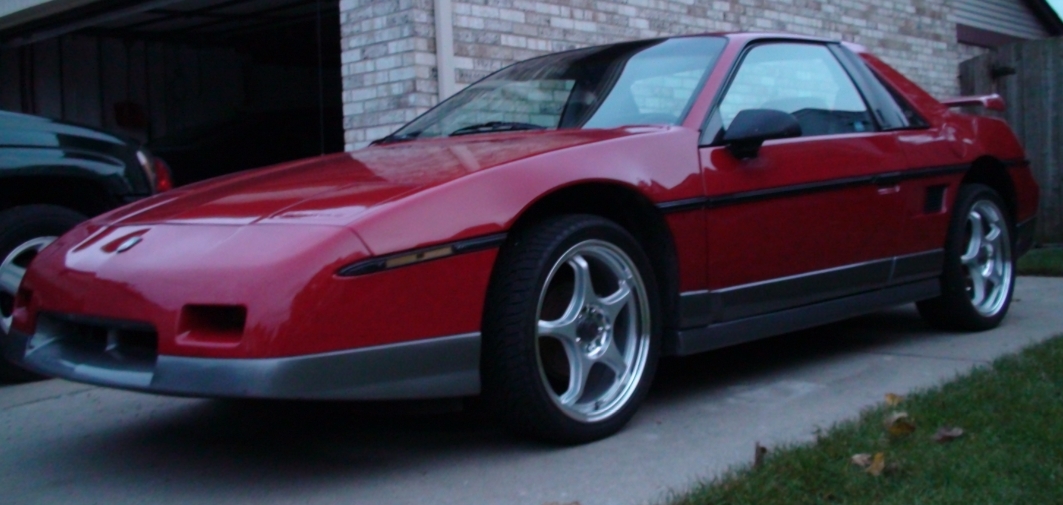 This is what I was currently dealing with.
| | | |
| --- | --- | --- |
| | Will | JUL 17, 07:50 AM |
Yeah, those are tiny. There's PLENTY of room in the wheel arches for MUCH larger tires than stock, as you can see.
The guy at Discount Tire doesn't know crap.
| | | |
| --- | --- | --- |
| | olejoedad | JUL 17, 10:01 AM |
Thanks for the picture, nice car.

Can't tell anything about wheel width and offset from the picture.

Width and offset info should be fast on the inside of the wheel, probably on the back of the spokes.

You've got room for lots more rubber than you've been led to believe.