Baby's First Engine Swap (Page 1/10)
| | | |
| --- | --- | --- |
| | BadNewsBrendan | DEC 08, 01:35 AM |
I have been putting off doing a build thread til I got a ways into it but now that its cold and snowy I figured this would be a good time to start it and maybe give me some more motivation and guidance along the way. So here it goes.

I originally was wanting to buy a car to build for a 24 Hour of LeMons race but for a few reasons, some rules related and partially because I don't want to put money towards a roll cage and other safety gear right now going to cancel or at least postpone that and focus on getting the car driving. I bought this 84 about 5 months ago for $500 , about 110K miles, ran but had a problem with the clutch not disengaging which I later discovered was cause by something sticking and causing the master cylinder rod to bend when the previous owner was jamming on the pedal. This kept us from being able to drive it on to the trailer but luckily there was a hill on the driveway to the shop and we were able to sketchily roll it onto the trailer and somehow not ramp it into my truck bed. The kid I bought it from was still somewhat attached to it but had moved out to college and parents wanted it gone. Here she is the day after i got her home (Wow my garage was clean).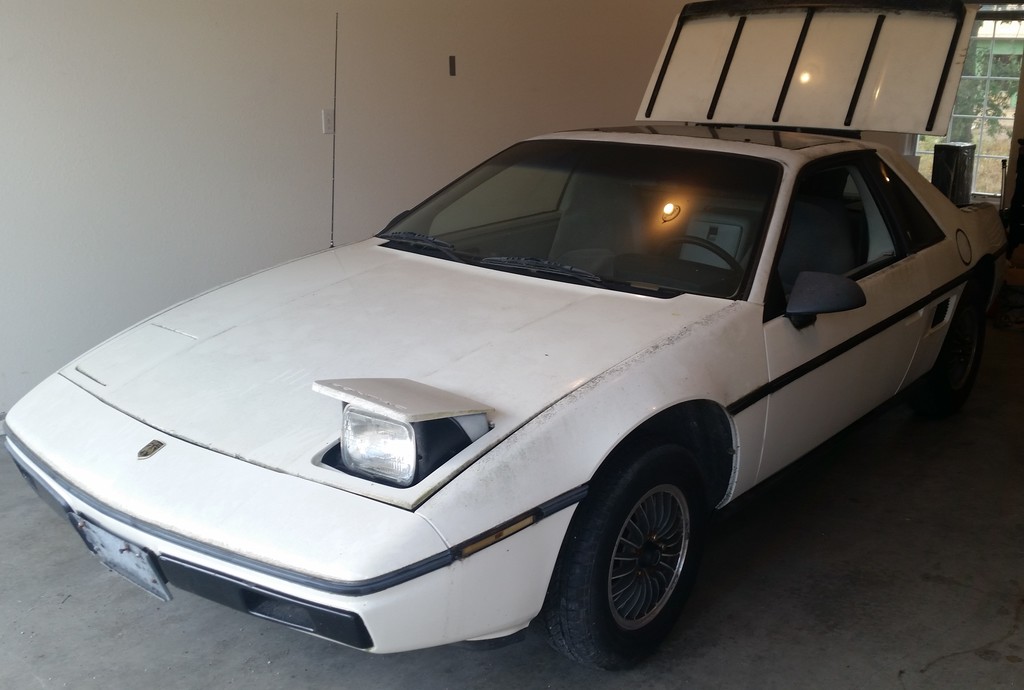 A new clutch master cylinder, some bleeding and some messing with the IAC later I drove it around the block a few times. I quickly realized most or all of the shocks were blown and that I need some more horses. Skip ahead a few months and I had this sitting in my garage.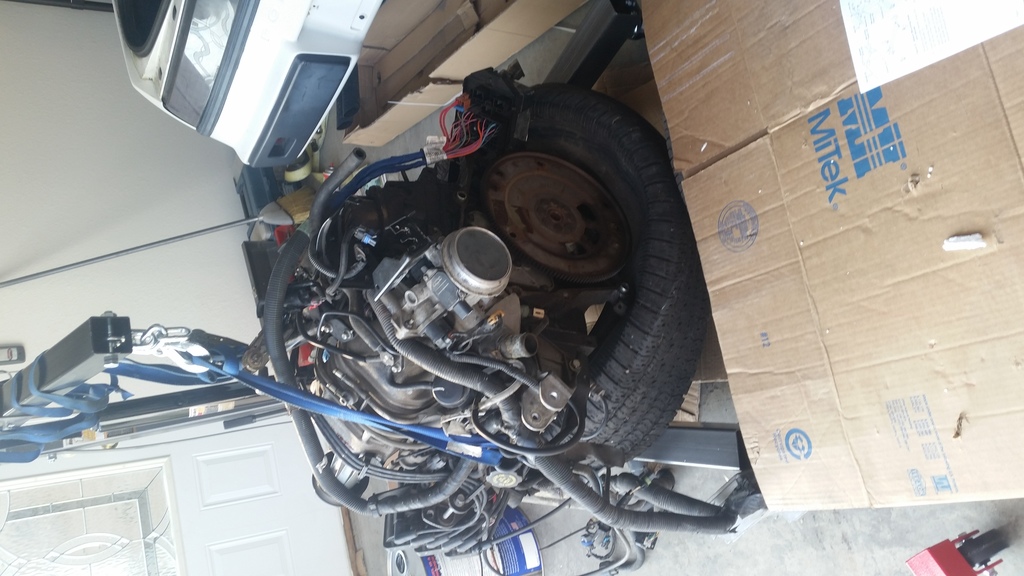 Fresh out of a 2002 Buick Regal, complete with wiring harness and ecu. Took a few bottles of degreaser and some scrubbing but i got her cleaned up and replaced all the gaskets besides the head gaskets. As far as I know those weren't blown and not upping the power for now so fingers crossed. I pulled the engine and cradle and started to see the rust was worse than just what I could see in the engine bay as can be expected for a 35 year old car in the Rust Belt.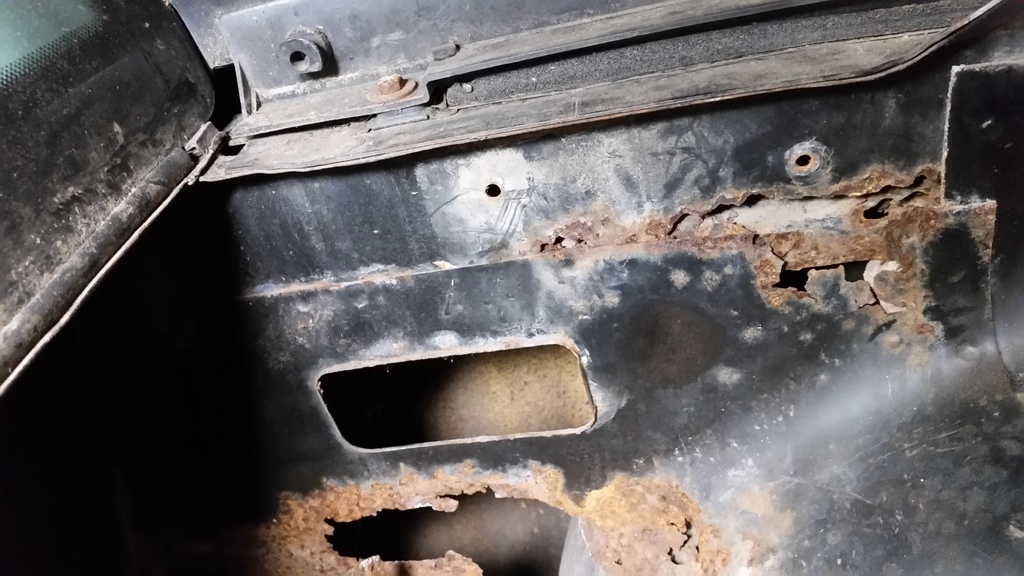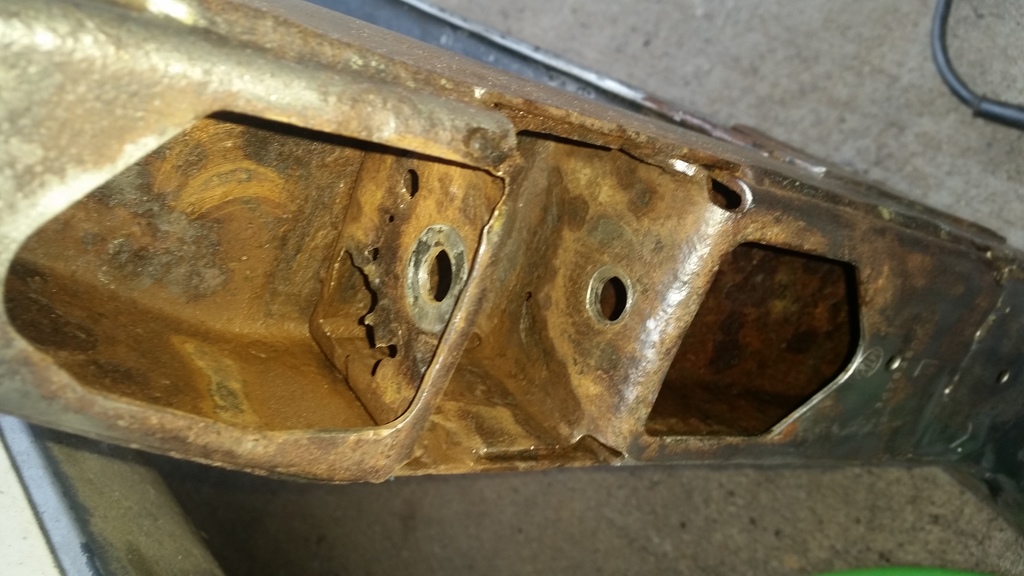 Also not pictured is the rusted through drivers side rear frame rail (part of the reason I probably won't make this a lemons car.)


------------------
"America is all about speed, hot nasty bad-ass speed" - Eleanor Roosevelt

Kansas State University Grad

[This message has been edited by BadNewsBrendan (edited 12-08-2018).]
| | | |
| --- | --- | --- |
| | Spadesluck | DEC 08, 01:56 AM |
Are you positive you want to swap a more powerful motor in a car with rust? I would be a bit concerned about the integrity of the vehicle.
| | | |
| --- | --- | --- |
| | BadNewsBrendan | DEC 08, 02:04 AM |
I have "fixed" some of the issues already, will post more about them shortly. I'm writing up another post but the image resizing is taking me a bit of time. The odds of me finding a rust free fiero near me are slim to none and wouldn't be within the price range i want to pay for it. I am planning on going through all the structural and suspension parts and checking the integrity.

[This message has been edited by BadNewsBrendan (edited 12-08-2018).]
| | | |
| --- | --- | --- |
| | BadNewsBrendan | DEC 08, 02:34 AM |
Meanwhile it came to my attention through some posts talking with you fine people that the 84 muncie 4 speed won't handle the bigger engine and I started looking around for a later year 4 speed. Enter the 85 already partially 3800 swapped mouse nest I found just 10 blocks away from me.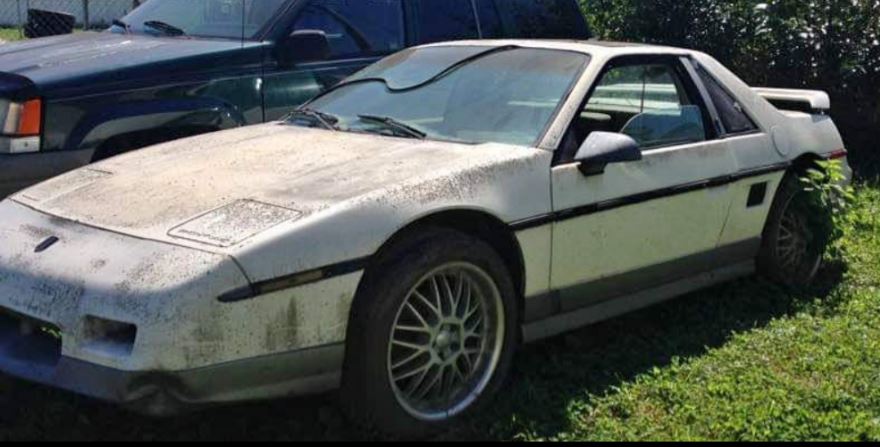 Unfortunately the car was stored with the window down, no seats, interior growing and had a family of dead mice in it. The cradle didn't have rust deeper than the surface so I decided I would swap them out. Dropped the cradle, engine, rear suspension in the driveway with more than a few glares from the neighbors. I probably shouldn't have done this alone but I am still alive I guess. Can't get PIP to work all of a sudden so will add pictures later. I stripped the other stuff i thought i might need from the 85 including the 17 inch wheels and the spoiler

and got rid of it. Will be cleaning up the cradle tomorrow a painting that, the alternator bracket that I made and some other brackets in a makeshift paint booth I in my garage. Will add more later but its 1:30am and I need to get some sleep.

[This message has been edited by BadNewsBrendan (edited 12-08-2018).]
| | | |
| --- | --- | --- |
| | olejoedad | DEC 08, 08:43 AM |
There are several reasons to use the 85 spaceframe, suspension and wiring harness if you are planning an engine swap.....
| | | |
| --- | --- | --- |
| | BadNewsBrendan | DEC 08, 10:00 AM |
I already sold it and it didn't have a title. Whats different about the suspension and wiring harness? The car was "rescued" from a field and then moved to an alley where it probably set for another 10 years before I bought it. I doubt there was much left of the wiring harness after seeing what the mice had done to it.
| | | |
| --- | --- | --- |
| | olejoedad | DEC 08, 11:20 AM |
85 has similar but slightly better suspension. Tighter turning radius, relocated rear toe link mounts.
84 chassis-side wiring is not as friendly for swapping, 85 and up is much easier.
| | | |
| --- | --- | --- |
| | BadNewsBrendan | DEC 08, 11:38 AM |
Thanks for the info. I will be sticking with the 84 however. Hopefully I can get my mechanic friends to help me with the wiring when I get to that point. Am also open to suggestions for names for the car, my latest idea was Super Sloth.... haha
| | | |
| --- | --- | --- |
| | BadNewsBrendan | DEC 17, 07:31 PM |
So an update, I made an alternator bracket. Since I'm not keeping the AC I decided to put the alternator where the compressor was instead of having to run an idler pulley and also buy the lower alternator bracket that people usually use on the other side. Hoping I can get it straight enough with a couple washers and shouldn't be crooked since it sits flush with the engine block where it mounts at one point. Here is what it looks like with the belts on.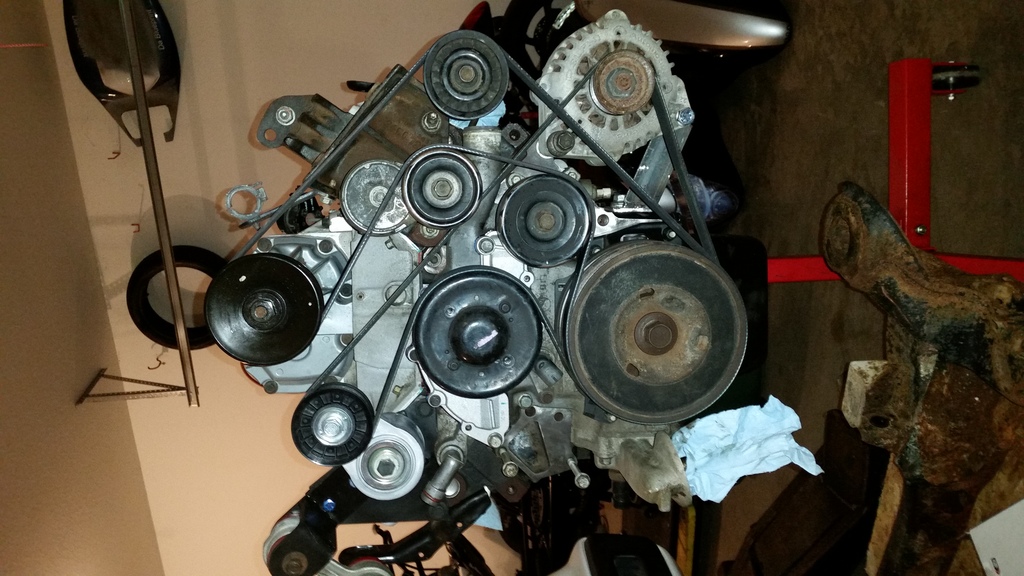 I also cleaned up the engine cradle, set up a paint booth in my garage sprayed it with VHT rust converter (not sure how well that stuff works) and primed and painted it along with some brackets and the mounting hardware for the cradle. Hindsight 20/20 I would have gotten a bigger fan for ventilation

The first picture is of before I cleaned it up. Would have been nice to have a sand blaster but I have loans to pay off haha.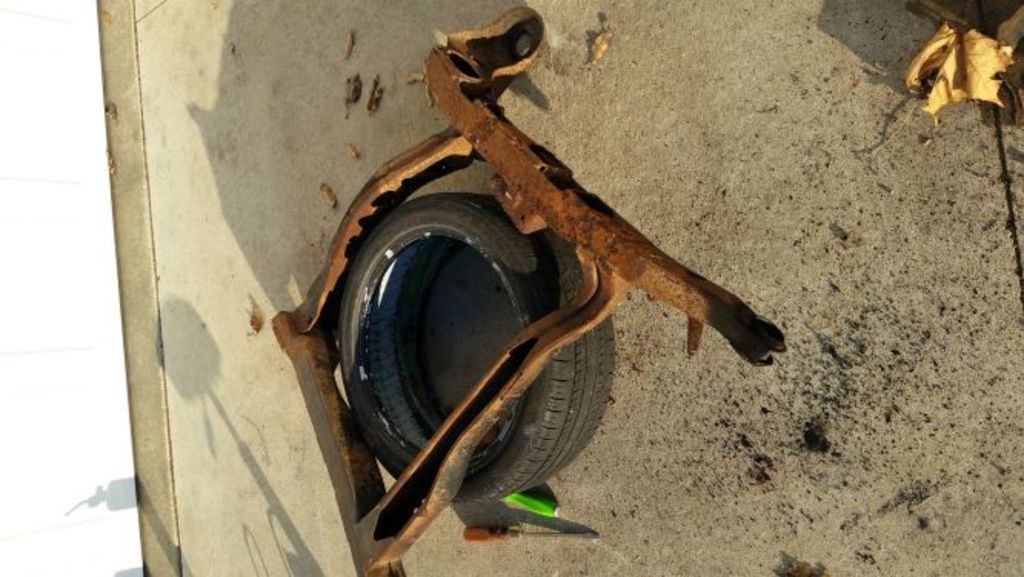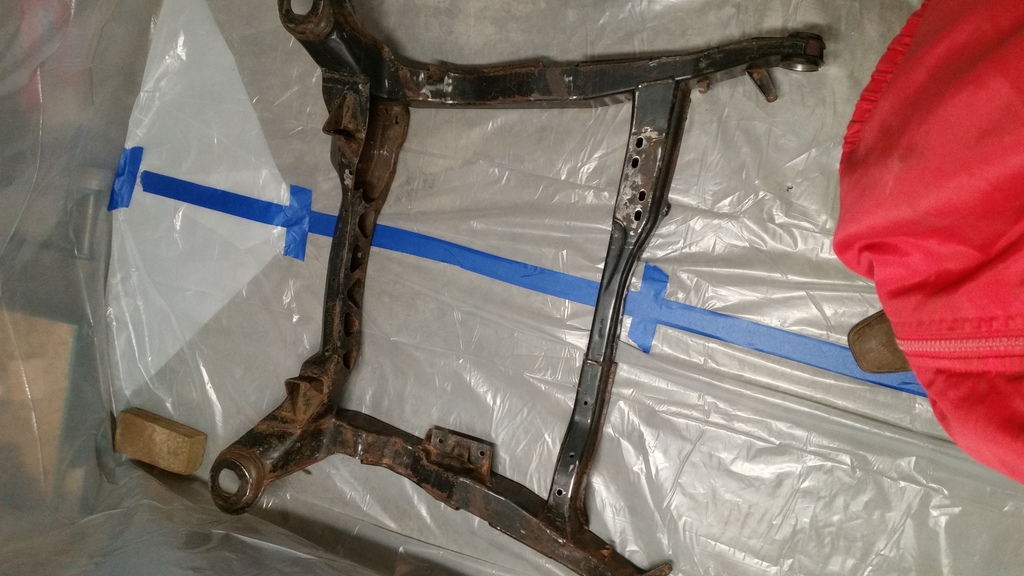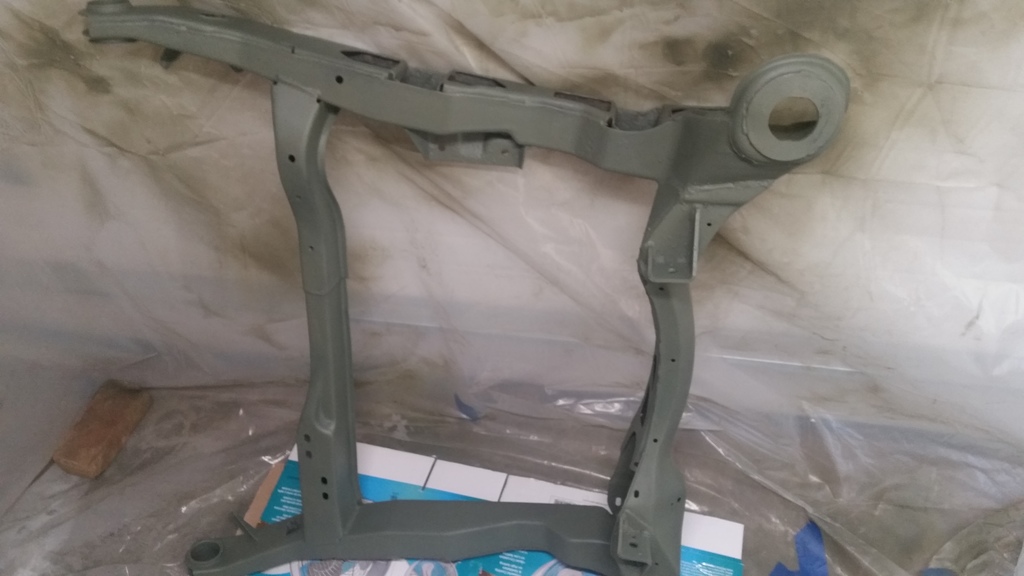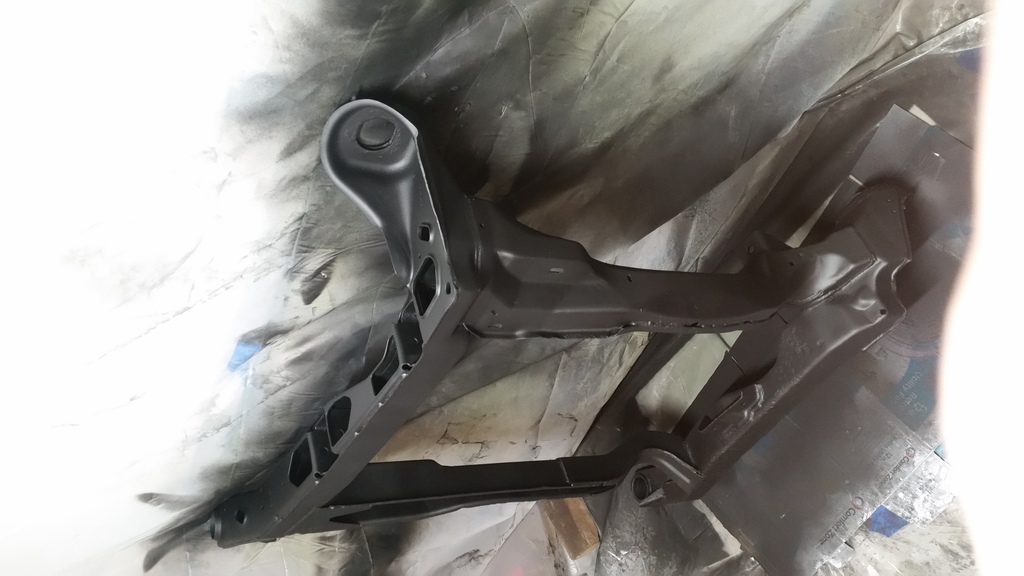 This was just after the first coat and I put a few more on. Not much of a painter but i figure it should keep the rust at bay. Next step will be to get the Camaro (or was it a Firebird?) flywheel machined and balanced. Hope the local auto machine shop will do it. Then its time to shell out for a clutch kit.... haven't looked into options much yet but let me know if anyone has good suggestions. Not sure if I mentioned this before but I'm using the 85 Muncie.

[This message has been edited by BadNewsBrendan (edited 12-17-2018).]
| | | |
| --- | --- | --- |
| | Phlebmaster | DEC 20, 11:29 AM |
Looks good! I like that you are doing your own thing with what you have and making it work. Keep it up!! Can't wait to see what you do with this car. I love the wheels

------------------
Aaron H
1986 Fiero GT 2.8- A dream car of mine since childhood- Stock now, but looking for creative options to upgrade this wonderful car