Long time, no Fiero (Page 1/2)
| | | |
| --- | --- | --- |
| | Bradbitz11 | NOV 09, 11:06 PM |
Not sure what made me start looking up Fieros today, but came back to Fiero.nl after a verrrry long hiatus after watching some videos. I started on this forum almost 16 years ago - when *I* was around 16 years old - and was looking to buy my first car. I still have my '86 GT, but she's been sitting for about 7 years.

Everyone always said, "never sell your first car"...so I didn't!

I definitely would like to get back into the Fiero scene. Not saying it's gonna be an overnight sensation, but what have I missed lately... What's the way to go? When I last was in the know, the 3800SC Series 3 was just becoming affordable, and the F40 out of the G6 was the best manual transaxle around.

I'm not looking to drag race, autoX, etc - simply would like to bring my baby back to life and be a fun street car.

As it sits, she's a stock drivetrain 86 GT with a 3-speed auto, Koni shocks and struts and 1.5" lowering springs. The 2.8 has about 130k on the clock and definitely needs to go be a boat anchor somewhere else. I'd prefer a manual transmission, even though it's not as quick in a straight line, and might think that coil overs or air ride are the way to go...but of course am not in the know anymore!

What's today's Fiero master think?

Look forward to seeing thoughts!

Brad





[This message has been edited by Bradbitz11 (edited 10-25-2019).]
| | | |
| --- | --- | --- |
| | Patrick | NOV 10, 12:15 AM |
Welcome back.






quote

Originally posted by Bradbitz11:

As it sits, she's a stock drivetrain 86 GT with a 3-speed auto... I'd prefer a manual transmission...

I'm not looking to drag race, autoX, etc - simply would like to bring my baby back to life and be a fun street car.





A 3-spd slushbox would take the "fun" out of driving most any car.


A healthy, properly running 2.8 (maybe with a couple of relatively minor tweaks) and a manual tranny in a Fiero makes for a "fun street car". Seriously!

[This message has been edited by Patrick (edited 11-10-2018).]
| | | |
| --- | --- | --- |
| | pmbrunelle | NOV 10, 12:21 AM |
Does the car run and drive? If not, I'd focus on getting it running the way it is, so you can enjoy driving it again, and getting excited about it again.

If you start immediately on a long swap project, it may be easier to lose interest, and then the car might end up sitting for another little while, in pieces...

The standard trans is quicker than the 80s Turbo-Hydramatic; this isn't a modern automatic.

I installed the standard transmission and its paraphernalia into my automatic Fiero; it's not that hard.

[This message has been edited by pmbrunelle (edited 11-10-2018).]
| | | |
| --- | --- | --- |
| | Patrick | NOV 10, 12:27 AM |



quote

Originally posted by pmbrunelle:

The standard trans is quicker than the 80s Turbo-Hydramatic; this isn't a modern automatic.





Yeah, I've got to admit I was a little surprised by the following comment.

quote
Originally posted by Bradbitz11:

I'd prefer a manual transmission, even though it's not as quick in a straight line...


| | | |
| --- | --- | --- |
| | fierofrenzy | NOV 10, 07:29 AM |
I agree with pmb…...get the car going and drive it a lot again. This will rekindle the fire even more. While your doing that, you can iron out your plans with the car until you begin your project.
Your actually back into the scene already. You just happen to be in the planning stage. Welcome back, have a blast !
Looks like you got just the boat in the backround for the anchor.
| | | |
| --- | --- | --- |
| | Bradbitz11 | NOV 10, 01:48 PM |
quote
Originally posted by Patrick:

Yeah, I've got to admit I was a little surprised by the following comment.



[QUOTE]Originally posted by Bradbitz11:

I'd prefer a manual transmission, even though it's not as quick in a straight line...




[/QUOTE]

I meant with an L67 or L32 - the 4T65EHD is quicker than any of the manual options and can handle more torque. **unless that's changed, of course. Trying to get back up to speed with what's the "new normal" in the Fiero world!

Thanks for the welcome (back), all!
| | | |
| --- | --- | --- |
| | Jake_Dragon | NOV 16, 03:54 PM |
Welcome back.
This car reminds me of my second Fiero. Same issue

it was an auto
But for what its worth if I could find another 85 GT auto I would snap it up in a heart beat (If it was close and I could drive it home in one day lol)

Good luck with the car!!

| | | |
| --- | --- | --- |
| | Bradbitz11 | OCT 25, 09:42 PM |
Almost a year later...time flies! New boat, same anchor, LOL.





Picked up a 2002 40th Anniversary GTP last week. I figure if I got a donor in my garage it'd keep me motivated to move forward! Nice deal is the pseudo-rarity of the 40th package - some good parts on it that should help offset the cost of the donor. (Free money, why not!)






The Grand Prix has been sitting for a while, so my plan is to pull the engine, inspect everything, replace gaskets and maintenance items without getting into the bottom end. My Fiero is an auto and I want to swap to a manual (Thinking about an F23). Am I biting off more than I can (should) chew doing the L67 and auto > manual swap at the same time? One motivating factor is the fact that the trans in the GTP is bad (in fact, so is the core that came in the trunk - anyone need a 4T65eHD case or two?!).

Doing plenty of reading both here and on Grand Prix forums, planning on this being a winter project so plenty of time! (Btw, and maybe this is showing how long I've been out of it, but what happened to ClubGP? - any recommendations on what a good w-body forum is? Been looking at GrandPrixForums.com)

Appreciate any feedback or guidance and am looking forward to getting back into the Fiero game!

Brad

[This message has been edited by Bradbitz11 (edited 10-25-2019).]
| | | |
| --- | --- | --- |
| | Bradbitz11 | FEB 14, 10:03 PM |
Slow and steady wins the race...or, I need to have fewer projects going on concurrently!

Since my last post I've been busy with work, travel and renovating my kitchen. Why not wait until the coldest part of the year to work in my very lightly insulated garage!

Anyway, finally got around to focusing on getting the 3800 pulled and GTP stripped so I could gain that space back. I've decided to do my own wiring, so we'll see how that goes. Plenty of info out there, thankfully.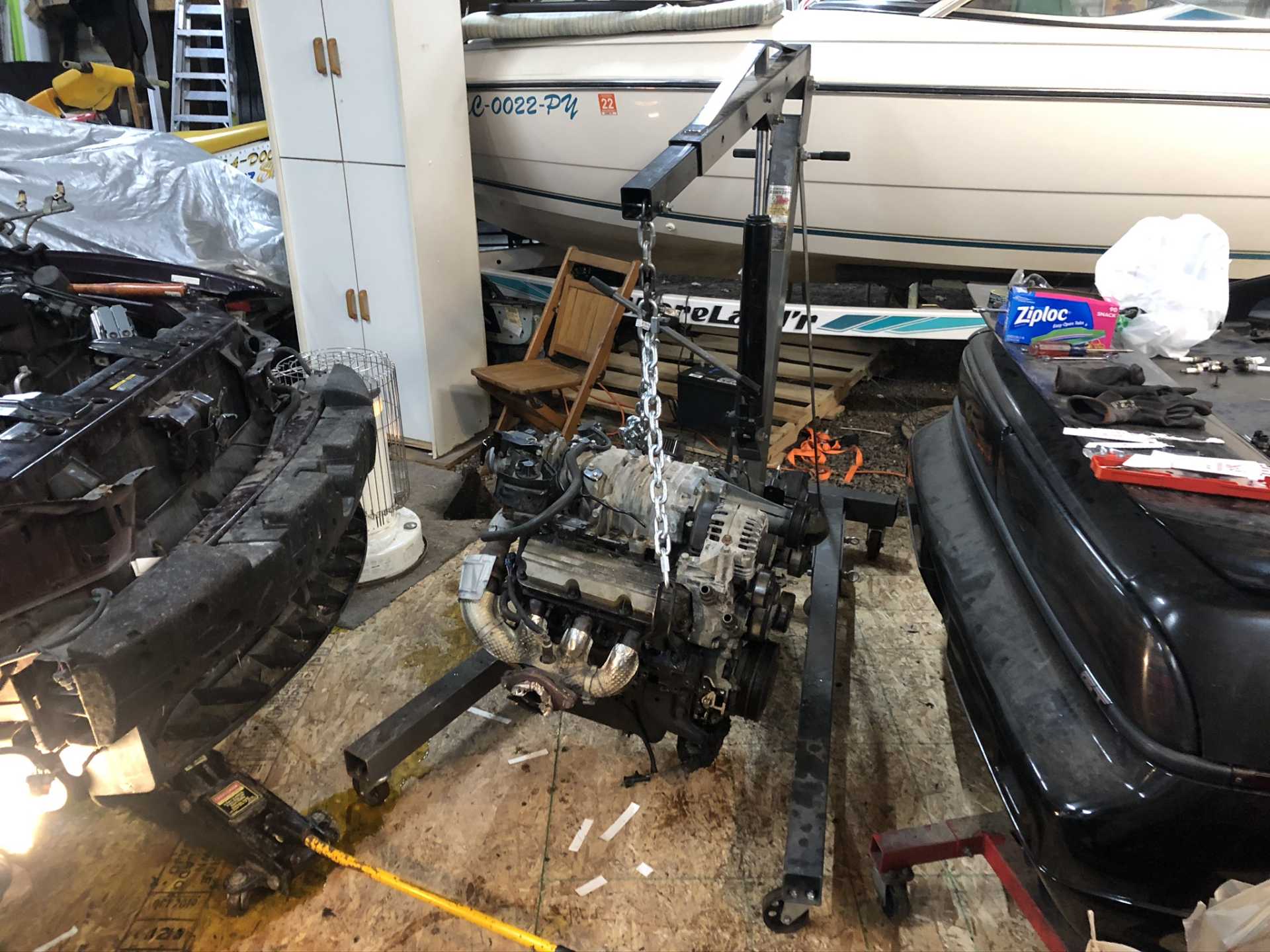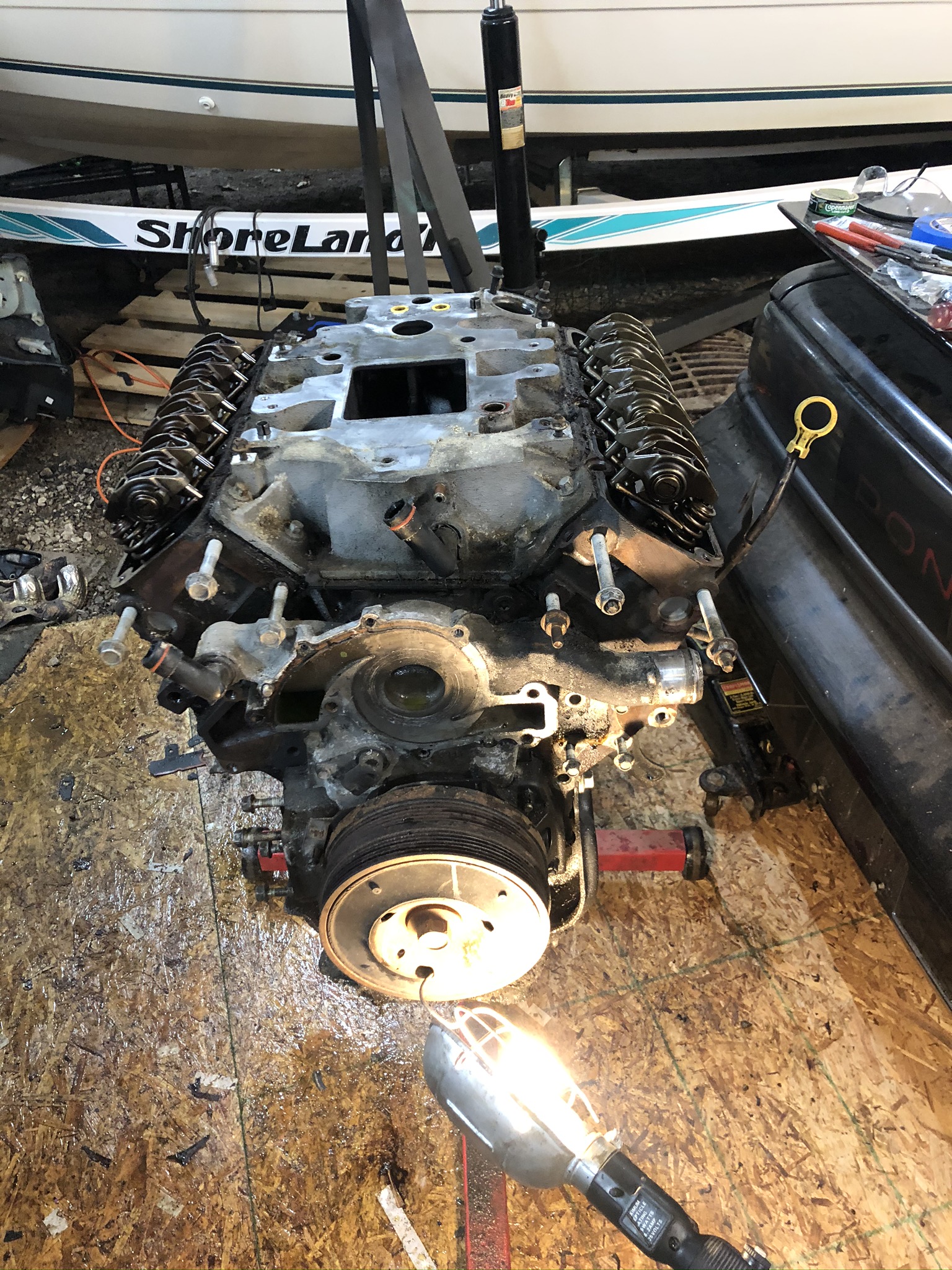 The 3800 looks pretty good to me. I have a suspicion it's not original to the car, but can't confirm. Wear surfaces all look good, and it was converted from Dexcool at some point (saw some horrible pictures of sludgy valve covers and blocked water pumps here and other forums I was glad not to have experienced first hand!). Even the supercharger oil and coupler looked great! I remember the horrible smell when I cracked the snout off my '97 GTP and this was nowhere near as bad.

Anyhow, after pulling everything I could think of to part out or use, I found a guy on Craigslist who only wanted to know if the car had a cat and title, and a day later, it was gone and I had $50 - not bad for the minimal effort expended on my part.

Focus then turned to my Fiero. I did some thorough reading on approaches to dropping the cradle, and ended up following Toddster's excellent write up, but instead of lifting the car by the decklid latch, used the service manual method Skitime and others discussed in that thread. I felt that was a pretty cool way of doing it, and while many haven't had issues with the trunk latch method, the confines of my "solid" work environment on OSB sheets (I have a gravel floor in my garage) lent themselves to that method simply due to space.

I also decided to take the rear fascia and impact absorber off to mitigate access issues to the rear cradle bolt floating nuts. I ended up breaking a couple of the bolts holding the steel bumper to the frame. I then heated the nuts up inside the frame rail, and to my surprise, both broke free with hand tools! I had the same luck with the front cradle bolts. Whoa...this is going way too easily for a Michigan car.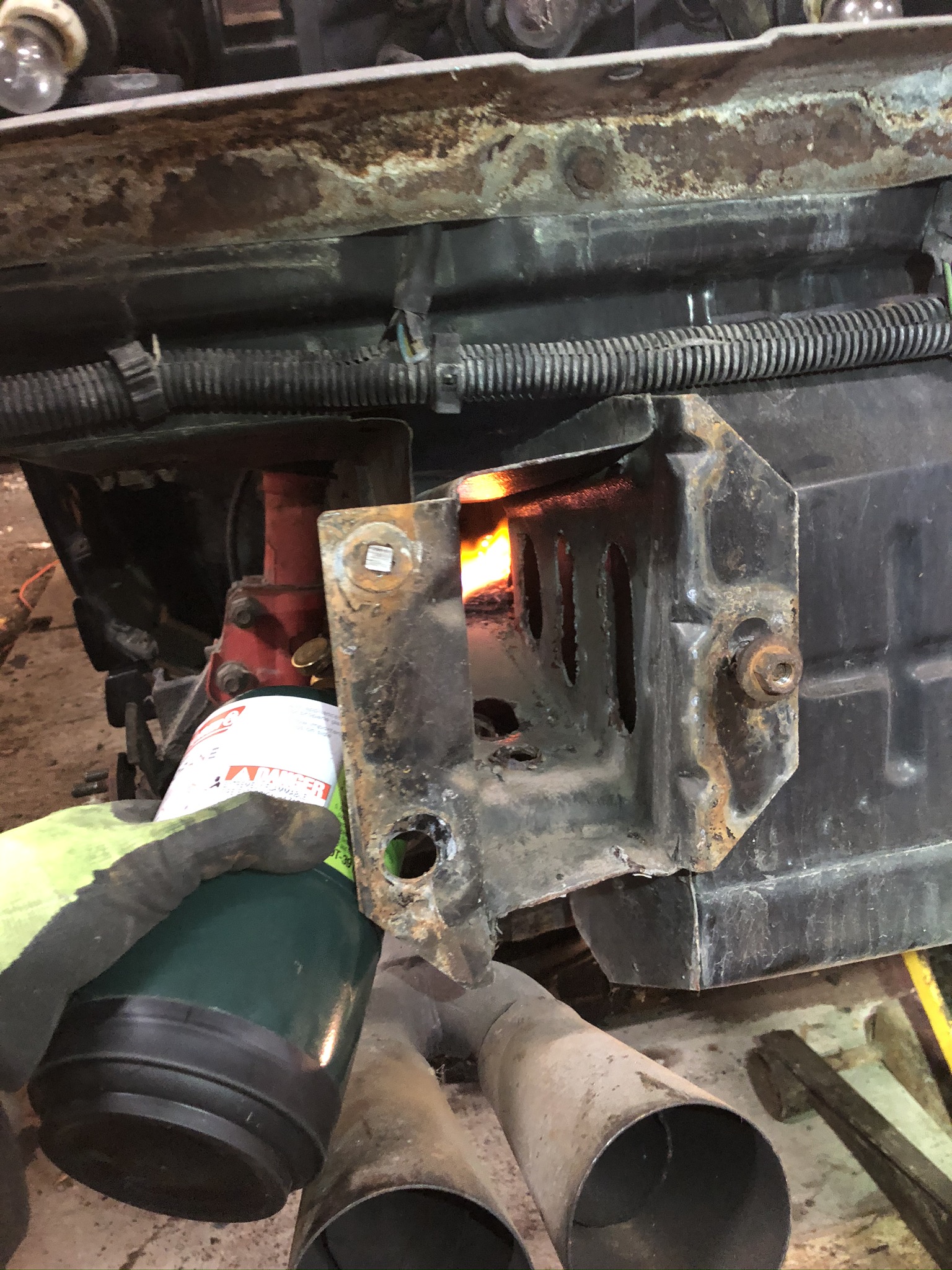 Then reality hit! While the nuts came off all 4 cradle bolts with the aforementioned persuasion, the front cradle bolts were seized to the steel sleeves they ride in within the rubber bushings. I probably should have just focused on one method of cutting the bolts, but I get stubborn and don't want to make yet another trip to the store for consumables, haha. Over 2 sessions on a weekend, I attacked the front cradle bolts with a barrage of penetrating oil, heat, a 1/2" Milwaukee impact, an angle grinder, and a sawzall with assorted blades. Looking back, the passenger side bolt and one side of the driver side bolt went pretty smoothly - the other side of the drivers side bolt was a prolonged effort mostly due to my obstinance to getting more carbide blades or another cut off wheel. Oh well. Eventually swearing and a dull blade won the day.

I had followed Skitimes process of attaching casters to a skid. This worked pretty well to drop the cradle and drivetrain, but I should have reinforced a couple of sides or reduced the space between outboard casters as one corner cracked and was dragging. Oh well, at that point I was able to lever it up and slide the corner by hand to get it free of the car since the other 3 corners moved fluidly with the casters. As mentioned elsewhere, using the jack / boards in the center of the chassis just forward of the rear firewall does not pivot the front fascia down dramatically as shown in this picture.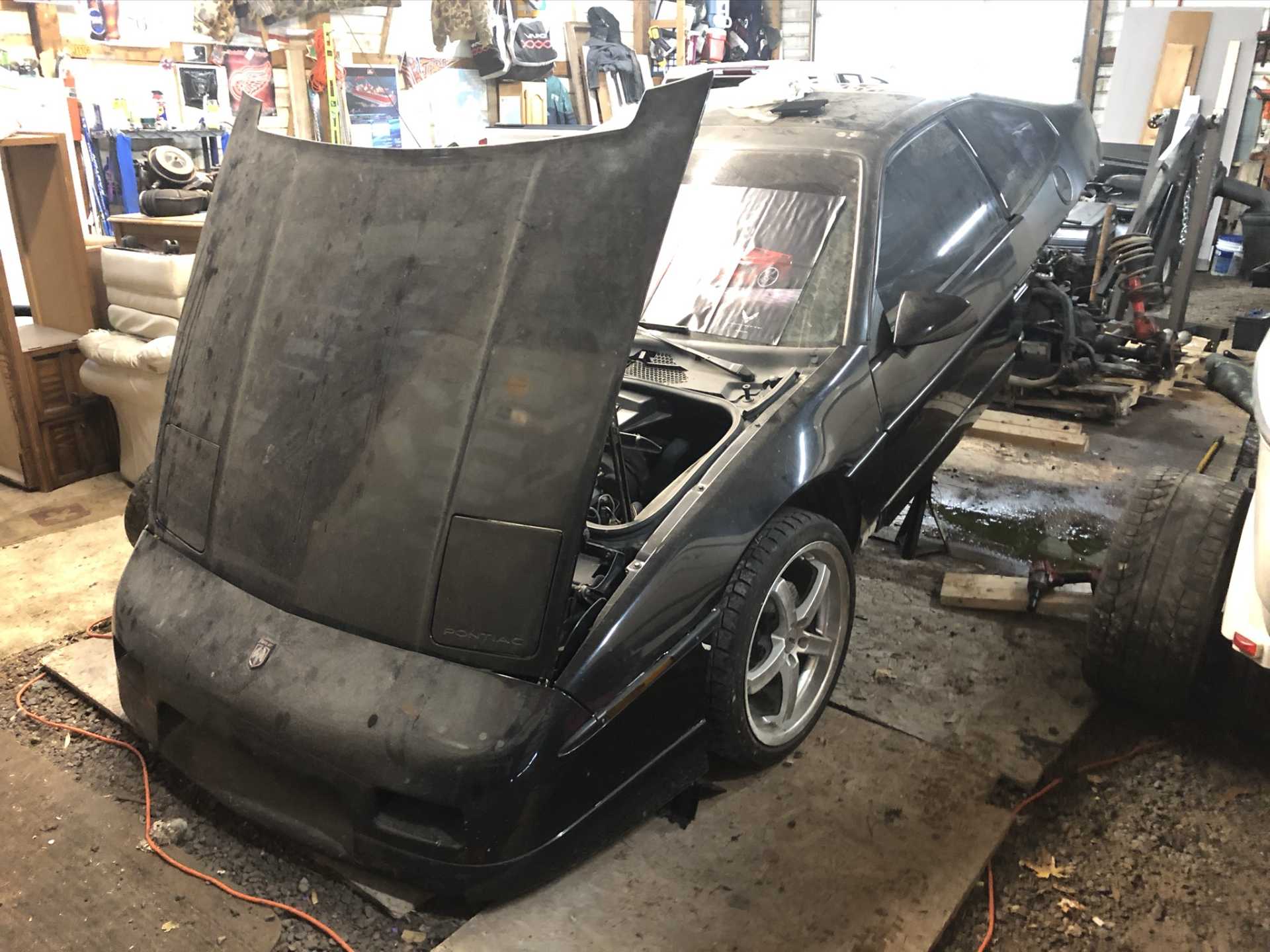 Now that the 2.8 and TH125 are off of the cradle, I am planning to start cleaning up the engine bay (remove OEM fiberglass insulation, wire wheel/paint) and cradle. I still need to procure a trans and associated miscellany, but getting the underlying architecture back to acceptable shape will be a good first start. Then I will get the L67 put back together with gaskets, accessories, mounts etc, mate it to the trans with the appropriate axles and get the assembly mounted to the cradle. At that point my focus will shift to wiring and the necessary changes to the car for the manual trans.

I hope to keep moving forward as time permits, but will soon be back on finishing kitchen flooring and a few house projects. I'll also be out of commission for a week next month heading to Florida for vacation. I'm sure time will fly as always!

I appreciate any thoughts or constructive criticism! Hope everyone is having a great 2020 thus far.

Brad
| | | |
| --- | --- | --- |
| | Tony Kania | FEB 15, 12:11 PM |
TSW Nagrano wheels. Nice.